Upgrade of warehouse concrete floor slab carried out after dilapidation survey, in Pineham, Northamptonshire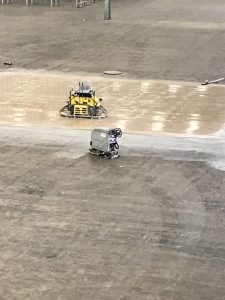 You can see from the photographs the condition of this existing warehouse concrete floor slab, left by a former tenant on the large industrial estate known as Prologis Park, Pineham, Northamptonshire. Level Best Concrete Flooring Ltd was contracted to carry out their full polished floor renovation system to the warehouse concrete floors. The aesthetic appeal of the floor revitalisation treatment is clear to see and also the way in which the floor no reflects light and hence saves costs for future tenants as minimal lighting will be required. The floor is also completely sealed to stop any dust emanating from the surface of the concrete floor and into the products stored in the warehouse. The concrete floor treatment leaves the concrete surface far more easier to maintain and clean, as liquids will find it far more difficult to penetrate the sealed floor surface.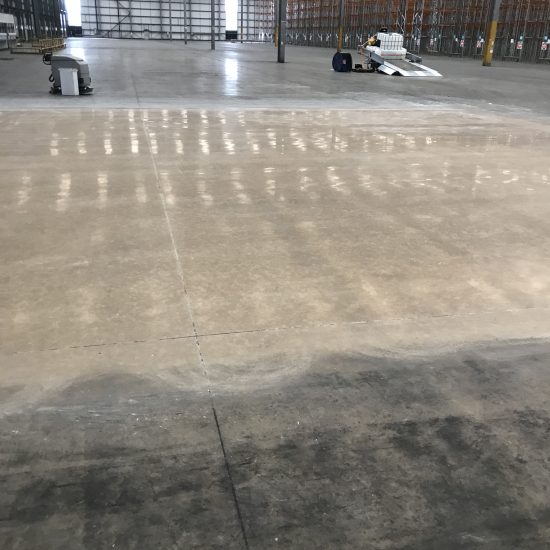 The Level Best Concrete Flooring floor treatment team can carry out large areas of the floor renovation system in just a matter of days, which also makes the floor treatment system appealing as it is far quicker and requires less preparation time in comparison to resin floors  and floor paint systems. The floor renovation system also cannot separate from the existing concrete unlike resins and it thoroughly penetrates into the molecules of the concrete throughout the 6 number vigorous processes carried out by Level Best. This means the floor treatment system cannot wear off and hence comes with a 10 year guarantee from the manufacturer.
Should you be interested in having your powerfloated warehouse concrete floor spruced up following the vacating of your existing tenant or if you are the building owner and or occupier yourself and you are looking at the various floor treatment systems on the market, then please do not hesitate to contact Jon Wilcox on 07539 360140 or alternatively e mail jon@levelbestconcreteflooring.co.uk